Wed page
Jennifer & Caitlin
From the second we met, our lives were intertwined. The night before our first date, I called her, called her out on her exact outfit, and talked all night. I couln't wait…I couldn't wait….I couldn't wait…
The night of our first date…I ran out of my job like a bat out of hell trying to get to her. We were meeting at a local cafe around the corner from where my office was. All nervous in my sweater, and puffy red vest…I walked into the cafe, looked around, called her….not there. I walk outside, and everything stopped….it was her across the street, drawing away in her book, listening to her iPod….just being…mine.
When I went over to her, the first thing I did was hold up a sign, (merely a piece of white paper pulled out of my printer),
with the words "I'm Yours" written on it. She gave me a hug, which could have lasted all night, and we set off on our date. Originally, we were going to go to dinner in that area, until we both discovered how much people irritate us, and how similar we were in that respect. Not to say we are unsocial…we just are selective with whom we surround ourselves with. Thus, being one of a million reasons why I knew I had found my best friend and soul mate. We were beach kids…so we decided to go down to a beach on the South Shore. So after a story from Jen of swimming with sharks and such, we were kicked out by the army. We got back in the Jeep and went to a different part,walked on the beach, plopped our selves on the sand, started the fall…
It very well could have been the windiest and coldest night in March….I couldn't tell, she couldn't either. I kissed her after about 45 minutes of conversation…I did it. I got up the courage to do it….from there, our words were spoken with no sound. Every time I pulled away from her to get a glimpse of that beautiful smile…the silence was filled with moments of I love you. I love you. I love you. We covered our heads with our furry hood edges, in an attempt to show how much we already cared….and I left there that night…knowing she was it.
We moved in by May…which was the weirdest thing. Not once did we decide, "oh this here, and that there". Our tastes are so similar, there was no wrong. Everything fit in the first place it landed…we furnished it with another $3,000 on top of what we already had brought to the place. Things that were, us! The outcome was a pad that was so reflective of us, it is still amazing each and every day. We live here with our son, Fenway the cat. She loves him now which is beneficial to us all. Hahaha.
Our days are spent so typically untypical, saying I love yous and miss yous, until the second our work ends and we are back together. I got used to that view the second it was noticed babe.
I proposed one night in the hallway between two apartments with a cigar ring…(classy)….which soon after turned into matching tattoos on our ring fingers…(classy-er)…can't take those off. We told her family on Thanksgiving of 2007, which was followed by some Korbel and a little trip to heaven thanks to Luke. Our wedding plans are much like a black tie affair with a pinch of some "suits"….great people, some great music, and a whole lotta love. Everyone that plans on attending, are people who want to be there, who love us. It is a legal marriage, thank you Massachusetts.
She wears her heart on her sleeve, tuff love doesn't exist anymore, shes my queen, and I am her mo anam cara.
Once upon a time, I fell in love with my happily ever after….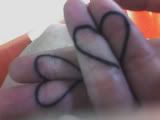 J: the only thing i could add…
the moment i met you, the moment i fell right in love with you…i knew i never wanted anything to ever be just me, or mine…i knew from the very first night that i wanted to share it all…with just you. ::i love you baby::
C: There has not been one day that has passed that has not been anything but amazing. Everything with you was so effortless it almost seemed unreal…. Waking up has never been more exciting, as with falling asleep…its so hard yet so easy at the same time. You are my best friend whom I get to spend everyday with…as my wife. I love you Jen.
August 8th, 2008
A night amongst close family and friends, we exchanged our vows, written ourselves, that would forever unite us as one. ((Along with 16,000 Chinese people who got married that day too)) A night where we got to marry our best friend.
August 30th, 2008
This day we had a "mock" wedding on the beach, complete with matching dresses, perfect sunset, and our friends and family. Everyone was handpicked to be there, guaranteeing open hearts and nothing but love. Everything was perfect. Everything. Starting Friday night with our rehearsal and dinner, followed by a cocktail "hour" for all the guests staying at hotels around the area…just to come and enjoy a carefree night by the ocean. Getting ready with one another on Saturday to get married….in front of everyone we wanted to share that with. Jen's mom Lynne got up and read Desiderata along with something she wrote herself, bringing us all to tears. It was so beautiful to hear all of these words spoken…for us. Tents lined with white lights, paper lanterns, tables strewn with black table cloths, a dozen red roses for each table, and a genuine smile on everyone.
Kicking off the night, Jen's dad led her in a dance to Paul Simon's, "Father and Daughter". Followed by papa welcoming me to the family by dancing and singing Louis Armstrong's "What a wonderful world".
We had a champagne toast led by Jen's dad, and had our first dance which we invited everyone who wanted to, to dance. Wicked Game by Chris Issak was perfect, just like we had hoped.
To all of you who shared this day with us…thank you. We could never think of anything more to say than thank you. It meant the world….
We are moon over for all of you….old and new family.
All you need is love...
Love Inspiration
The beach..
Fast Facts
First met: March 12, 2007
First date: March 13, 2007
Got engaged: November 22, 2007
Ceremony date: 08/29/2008
Ceremony location: The Beach
Favorite planning resource: Our crazy heads!
Honeymoon destination: Disney Baby!!

In Case You Were Wondering
We're calling our celebration
: A wedding
Our wedding colors
: Pearl and Black
We will be wearing
: Matching dresses
Who proposed to who
: Caitlin proposed to Jen
Our last name will be
: Johanson
We are registered at
:
Go to ClubWed
CB2
Looking Back on the Big Day
Favorite wedding moment: Walking up and seeing everything under the tent ready...candles lit...everything
First Dance song: Wicked Game

More Wed pages